I Know

I know there`s Someone watching over all
Who knows each blade of grass
And see`s the sparrow`s fall;
There`s nothing going on
That can escape His eye,
No heart that reaches out
To Him will be denied.

I know He holds the light
To guide us on our way;
He knows our happiness,
Each sorrow of our day.
His love can teach us how
To live and how to grow.
My heart is full and glad,
And all because.... I Know!


Written by
Anna Lee Edwards McAlpin
If you do not hear music..go to bottom of page and turn music on.
Altho...some devices will not support the music file
**



Send This Greeting To Someone You Care About

**

To return to Inspirational index click
HERE

**

To return to main index click
HERE




You are listening to
Angels Watching Over Me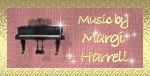 Design
Original Background set by
Heartistic Expressions.
I have made a few changes